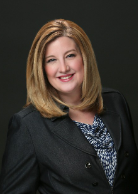 Jennifer Gutierrez is a Catholic business consultant with 25 years of consulting experience in the corporate, non-profit, faith-based, and public sectors.
Early in her career, Jennifer led public relations efforts for the Guatemalan Development Foundation (FUNDESA) in Guatemala City, Guatemala, as its communications liaison to the U.S. Embassy, Guatemala's national media, and international media such as the Associated Press and Voice of America. She was also responsible for international public relations and publication development.
Upon relocating to the United States, Jennifer worked for Paul Werth Associates, an Ohio-based national award winning public relations firm, where she implemented strategic initiatives for corporate, public affairs and health care clients.
President of JAG Consulting since 2002, Jennifer offers expertise in the areas of research and assessment, strategic planning and implementation, strategic communications, board training and development, and cultural diversity services. Select Catholic, corporate, nonprofit, state and federal clients include: the United States Conference of Catholic Bishops Secretariat of Pro-Life Activities, Students for Life of Madison at the University of Wisconsin, the Diocese of Lincoln, Lincoln Catholic Schools, the Catholic Foundation of Southern Nebraska, US Bank, Pinnacle Bank, United Way organizations across the Midwest, Food Banks in the region, the Nebraska Department of Health and Human Services, the Nebraska National Guard, and more.
A Phi Beta Kappa graduate of the University of Nebraska-Lincoln, Jennifer holds Bachelor's degrees in journalism and Spanish, and a Master's degree in political science with a specialization in human rights and diversity. She was a governor appointee to the Nebraska Commission on the Status of Women, a mayoral appointee to the Lincoln Lancaster County Women's Commission, and has been a member of numerous non-profit boards. Jennifer was recently named by the Lincoln Journal Star as one of 30 of the Most Influential Women in Lincoln, Nebraska.